6 original ways to make your exhibition stand out
First impressions are everything when you're representing your brand or product at a trade show, event or exhibition. For many it will be the first time they're exposed to your business, not only do you need to stand out in a sea of competitors, you want to convey your brand message in a way that is both professional and memorable. Get it right and you could get high footfall and thousands of sign ups or even close some leads on the day. Get it wrong and you've wasted a lot of time and resources.

We've pulled together six simple-yet-effective additions to your exhibition space, including the impact that a little clever lighting, large scale print products (such as overhead banners or wraps) or well-chosen pops of colour can have. Incorporate some of these elements, and not only will you have an impressive exhibition stand, you'll be able to capture your audience's attention and create a buzz online with pics, videos and content of your stand in action.
1. Get the best out of print with good lighting
"Lighting is everything."
Multi award-winning LA interior designer Martyn Lawrence Bullard
Much-like show business, lighting is everything! Many trade shows use bright, fluorescent lights which can be harsh on certain features and colours. Whatever is going on inside of your allotted exhibition space, it needs good lighting to shine. Offer your audience some respite from the harsh lighting by playing with something a little softer using a diffusing space, or have fun with the contrast the fluorescence provides. Using neon lights can draw attention to a key printed feature, a spotlight meanwhile achieving the same results in a more subtle way. We've included some great projects we worked on last year (below) that include lighting elements to grab attention, including lighting box for the Converse event space in London and lit banners for the Dr Martens Lazyoaf campaign and pop-up cafe.
Lightboxes are also a great way to inject a little creativity into your event space, with a well-executed design sure to draw the attention of passers-by. Consider a full wall feature, with an illustration or design extending beyond the lightbox for maximum effect. As they say in the movies before the magic happens, it's all about lights, camera, action. In fact, we like it so much we have our own lightbox in the office to illustrate the design and print process (pictured below):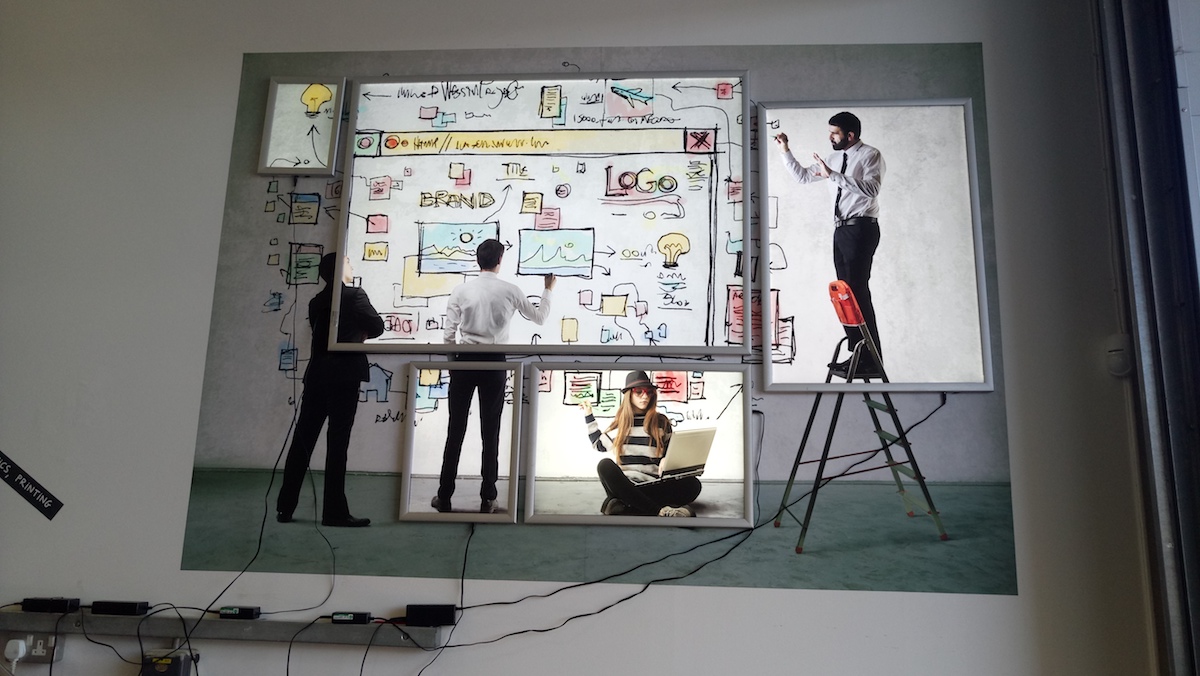 2. Add bright colours to get attention
Colour is a great way to convey your brand message to a wider audience, and is often the first impression people get of your company, before they've even had time to process your logo, product or supporting text. For some, it may even be an identifier and trademarked by that company - for example, Tiffany & Co's egg blue is so recognised in line with the luxury jewellery store that it's now been dubbed 'Tiffany's blue'. Consider also the regal, luxurious purple hues used by Cadbury, luxury jewellers Asprey London, or Hallmark, who go the extra mile with a crown in their logo. Though often understated, a carefully curated colour palette that reflects the ethos of your brand helps communicate your message with clarity - a perfect precedent when taking your company to a tradeshow. For example, we were commissioned by Ministry of Fun to print these bright eye-catching branded elements for a Cancer Research Pretty Mud Space event last year (pictured below).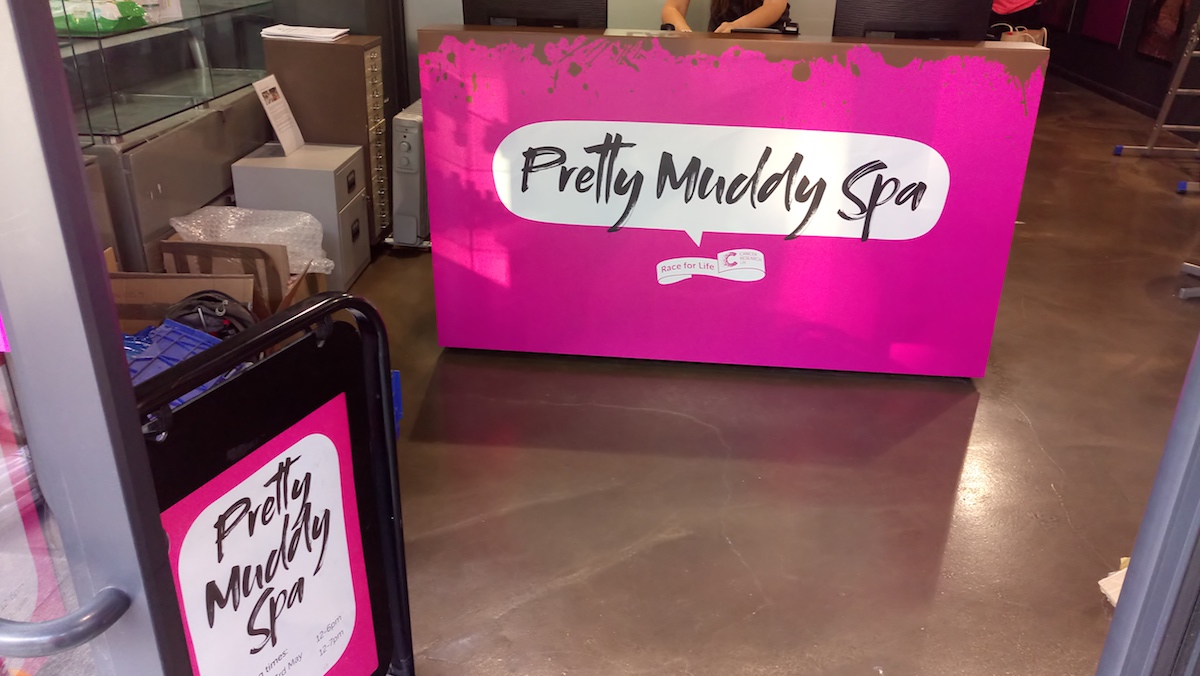 If you want to drive more traffic to your stand at a big industry event, you could have floor print pathways to your stand or dot printed markers around the exhibition (like the pic below), although you may need permission for that one from the event organisers!

3. Use 3D objects and scenic elements to stand out
A novelty on its own, 3D print effects are a clever, eye-catching addition to your trade show stand and needn't cost a fortune. You could opt for a 3D reimagining of your logo, or display different facets of your brand with a large-scale concertina. From one side, your chosen image can give one side of your brand's story, with the complimenting message printed on the other - so both are visible depending on where your audience is positioned. Another simple yet effective options is 3D shapes and objects inspired from your brand, such as these cubs (pictured above). Alternatively, you can incorporate photographic and scenic elements to create entire environments for passersby who will want to step into your world. We specialise in large-scale printing and can consult you on ideas and considerations for your brand when it comes to implementing 3D effects through print, just get in touch if you have any questions.
4. Full pop-up shop creates an immersive experience
Take visitors to your stand away from the hustle-and-bustle of a trade show by providing them with a fully immersive pop-up experience - whether it's a shop or a secluded VR area. Remember: your venue is your canvas, and if you struggle to find a way to display your brand in the space given, there are no rules in place (usually) to say you can't create your own as long as you keep within your space's dimensions.
Of course, creating your own pop up comes with a multitude of new challenges, and you'll also have to consider the route you want guests to take, and how to balance positive and negative space. Check out this pop-up experience we printed for Hotel Chocolat:
5. Creative visual props can make all the difference
If there's one thing universal to each and every trade show, it's that people love interactivity. Creative visual props can help with this, drawing people to your exhibition stall.
You can implement this through encouraging photography with props against a large-scale feature wall or graphics (perfect for travel companies), cardboard cut-outs of a relevant celebrity in a particular pose, or an aesthetic feature - think floral walls, balloon arches, or glitter-effect columns. In fact, we recently proved that even the most common-place can be turned into something magical with this toilet door print:
6. Make an impact with large-scale graphics
Wear your brand message big and proud with large-scale graphics or floor/wall installations filled with text, an image or combination of the two. Composition is key here - consider whether one full installation or a triptych of separate banner-type images would be most appropriate for greatest effect.
Time to get creative
By now you should have developed a few ideas on some of the things you could do for your brand to deliver a captivating experience for event-goers.
For help refining your ideas and bringing them to life, why not make use of the services we provide at The Desk? We offer professional event printing services, and can help you plan, design and create your entire space for trade shows, events and exhibitions alike.
For more inspiration you can read our blog on top film, TV and event print jobs of 2019.